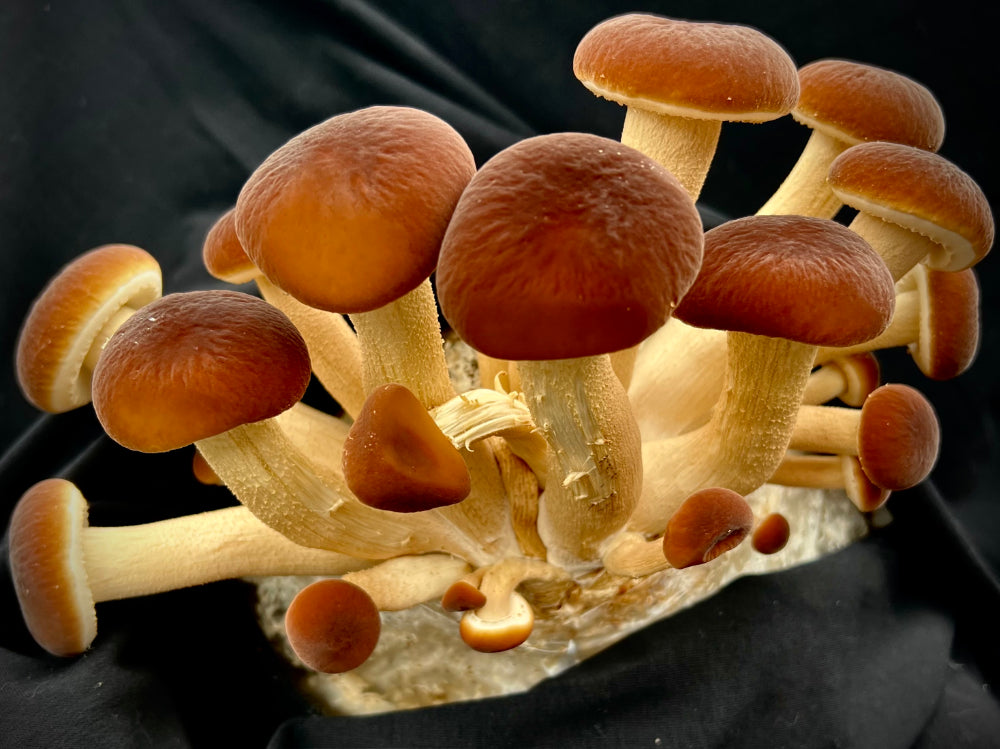 Pioppino
Pioppino mushrooms are a good source of unsaturated fatty acids and Vitamin E. Their traditional looking caps are fragile, while their stems are crispy–similar to asparagus. Pioppino mushrooms have a nutty, buttery smell and flavor that make them ideal for soups, stir-fries, roasting, and mincing into gravy or dips.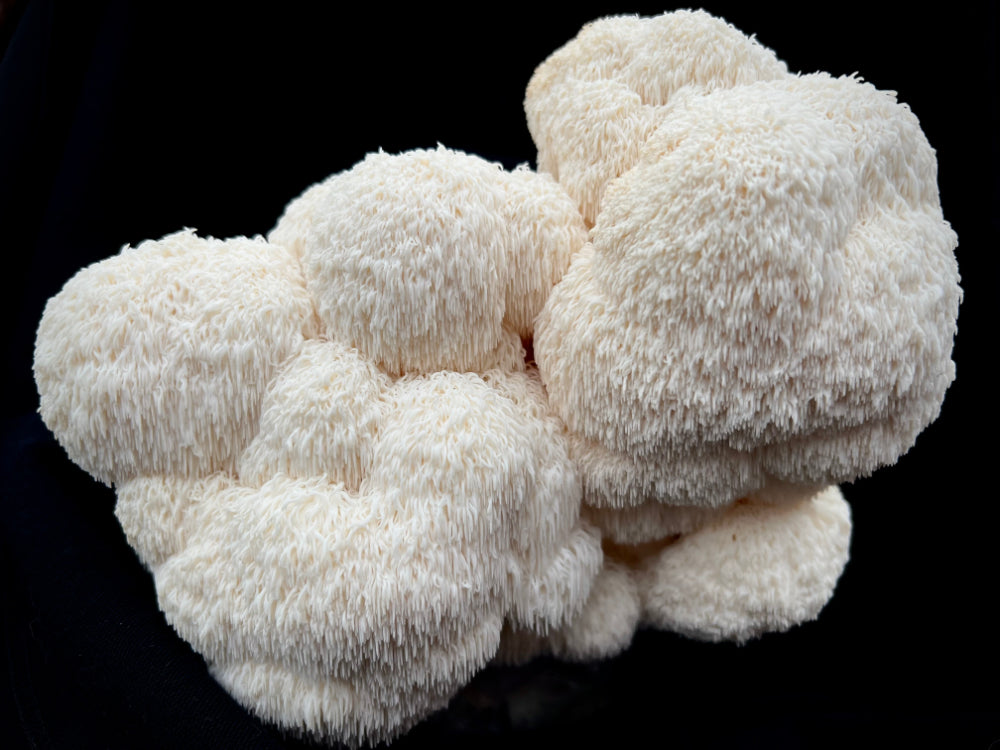 Lion's Mane
Lion's Mane is our most medicinal culinary mushroom, and arguably the best tasting. In addition to nutritional qualities shared by most mushrooms, Lion's Mane has been proven to be a neuro-regenerator/cognitive enhancer that can treat mild anxiety and depression. In addition to nerve/brain health, Lion's Mane is good for gut health and the immune system. You can also find tinctured Lion's Mane in our store. The texture and flavor of Lion's Mane is similar to crab or lobster, and is a favorite among mushroom lovers.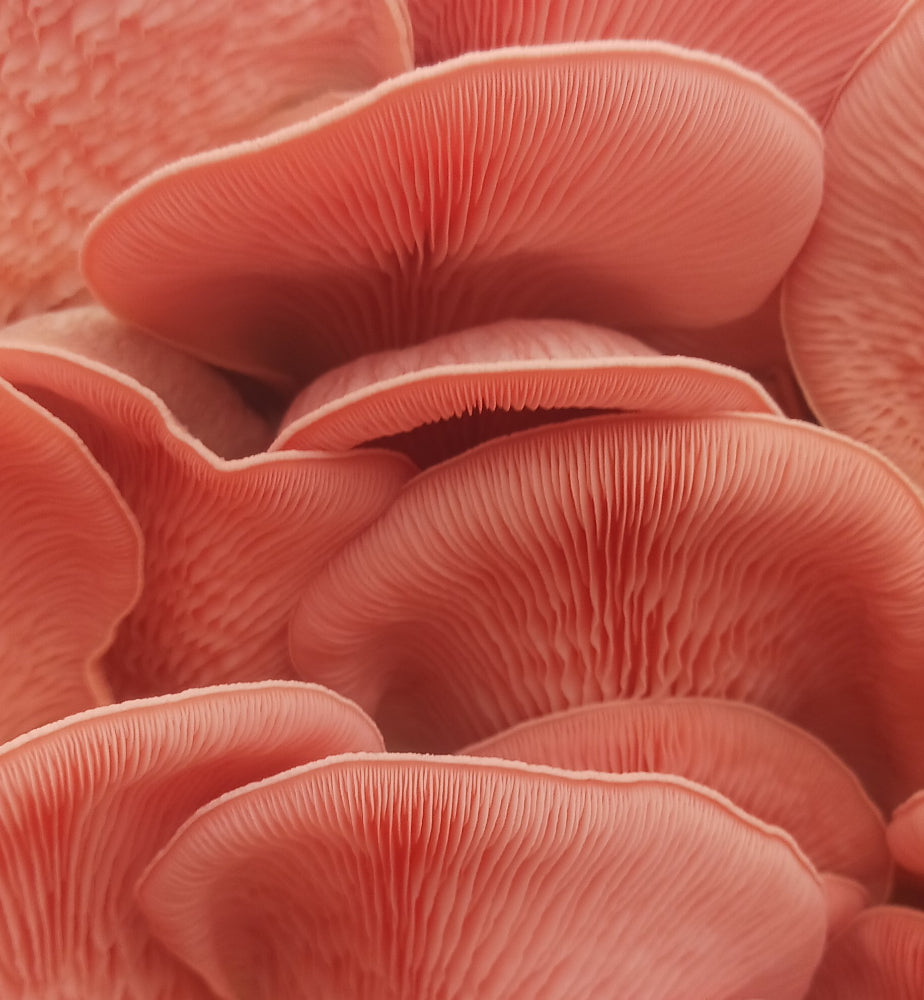 Pink Oyster
Pink Oyster mushrooms are a dense/meaty mushroom that can be found growing naturally in tropical climates. They are a good source of amino acids, vitamin C, potassium, riboflavin, vitamins B3-B5-B6, folic acid, and magnesium. Pink Oyster mushroom flavor is savory/umami, similar to other Oyster varieties. They can be prepared as a bacon or ham substitute, or used in any dish that calls for mushrooms.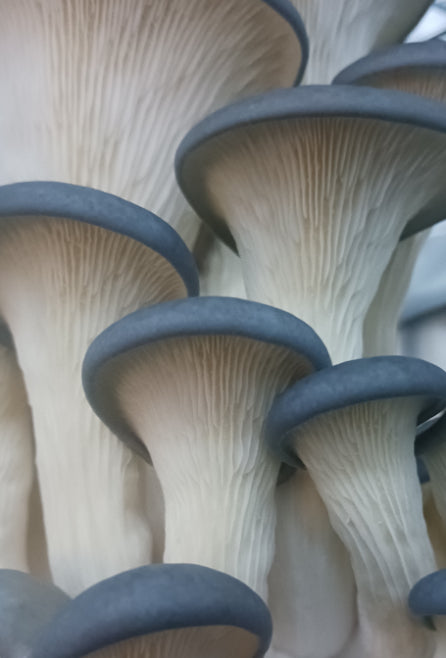 Blue Oyster
Blue Oyster Mushrooms are rich in Vitamin B, C and D. They have a mild (some say seafood) flavor that goes well in any dish that calls for mushrooms. Their fragile caps are ideal for soups, stews, stir fry and gravy.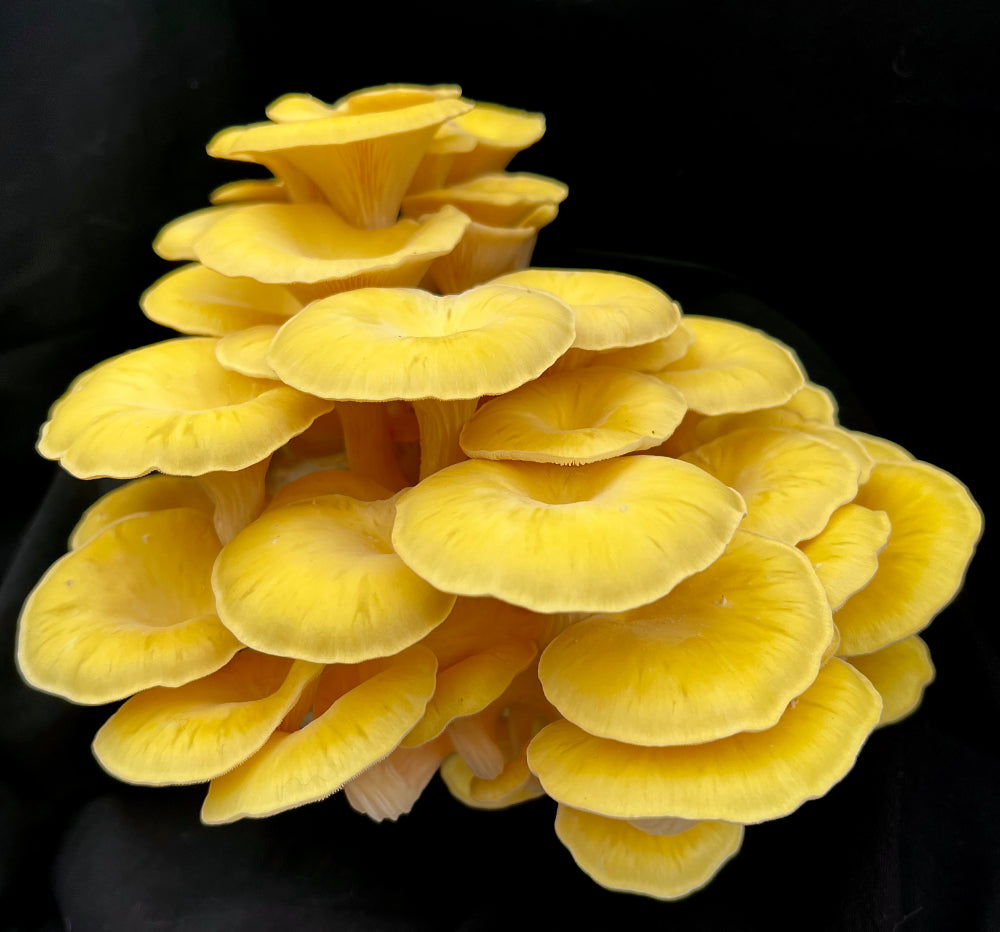 Golden Oyster
Golden Oyster have some of the highest protein content within the oyster mushroom family. They are a good source of potassium, vitamin B2, vitamin B3, and vitamin B5. Golden oyster mushrooms have a light, fruity smell, and nutty flavor. They are a favorite to sauté in oil or butter.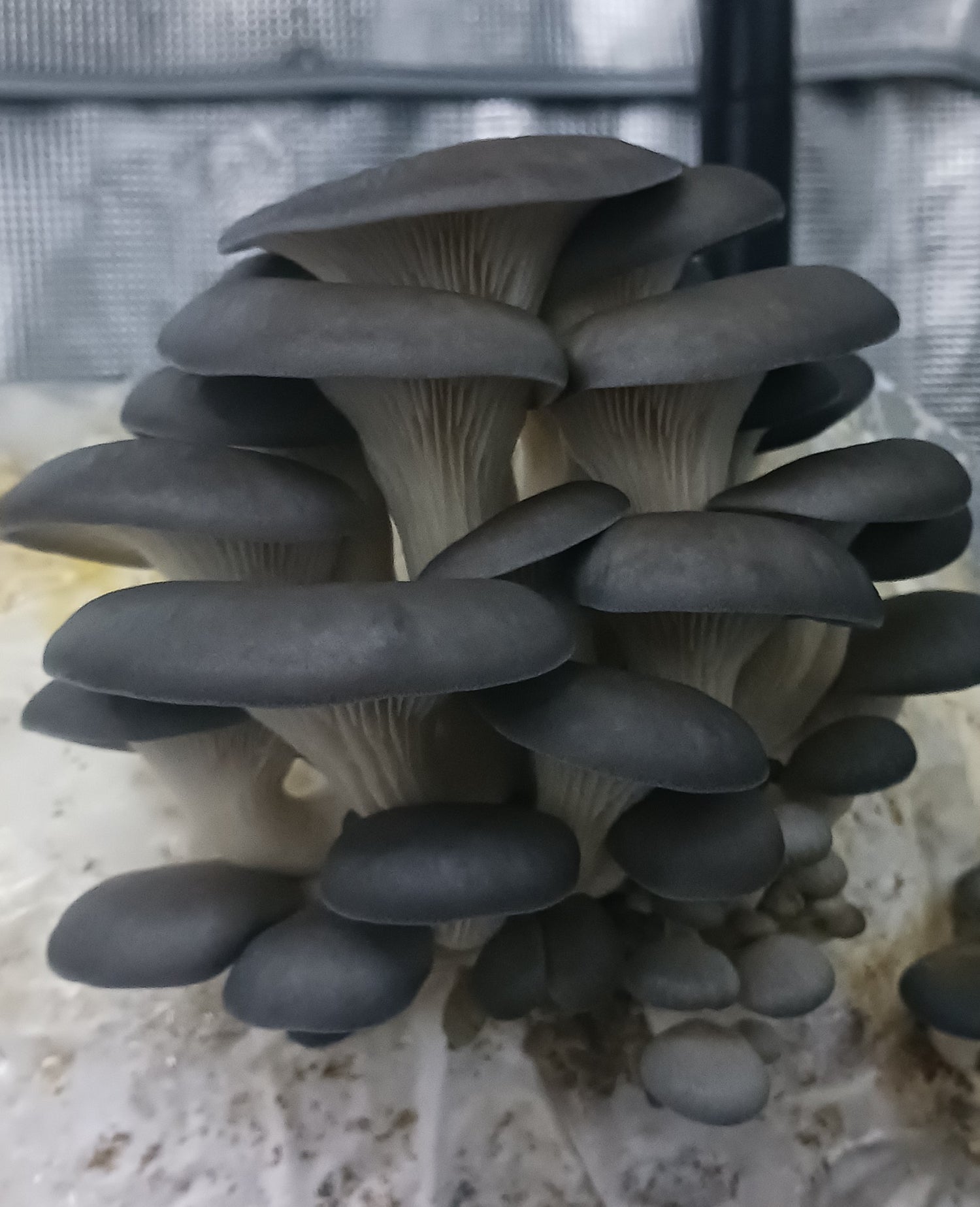 Black King Oyster
Black King Oyster mushrooms nutritional content borders on medicinal, as they are a very good source of riboflavin, niacin, pantothenic acid, phosphorus, potassium, copper, dietary fiber, protein, thiamin, vitamin B6, folate, iron, magnesium, zinc and manganese. They also contain a unique amino acid called ergothioneine, which isn't produced by the human body. Black King Oysters have a meaty texture and savory/umami flavor, and are a convincing meat substitute.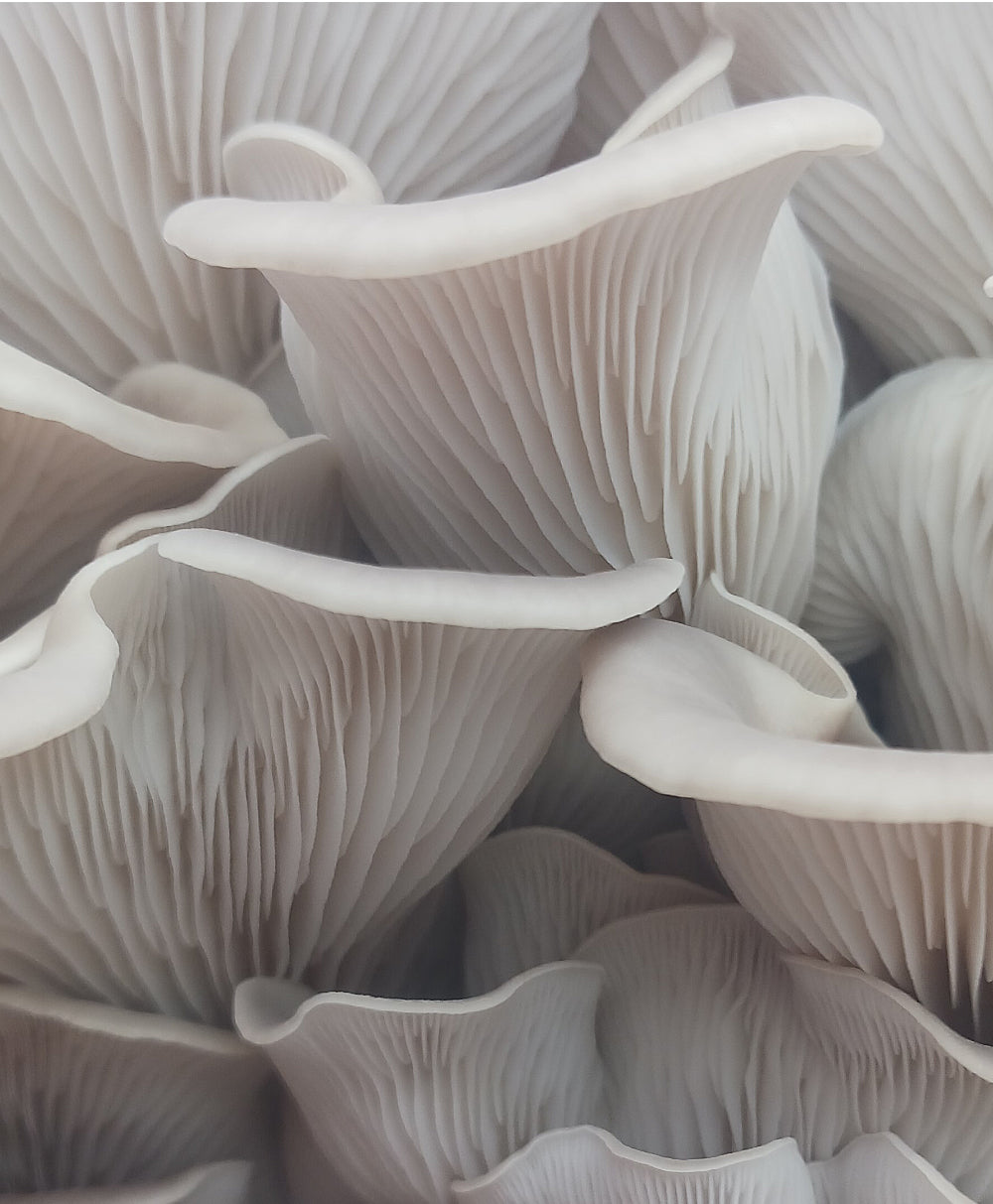 Italian Oyster
Thicker and meatier than Blue and Golden varieties, Italian Oyster mushrooms share resemblance and nutritional content with the common Oyster mushroom. A single Italian Oyster mushroom can grow as large as person's hand, which makes them ideal for sandwiches. They are also softer, have sturdier caps, and are a convincing meat substitute for many dishes
FAQ's
What are mushrooms?

Mushrooms are the fruiting body of fungi, which has its own Kingdom classification separate from plants and animals. The earliest fungi lived more than a billion years ago! The "golden age" of mushrooms was 400+ million years ago, when mushrooms were the largest and most dominant form of life on the planet. The biggest mushrooms at this time were more than 20ft tall! Neat! In nature, fungi act as decomposers, and are the primary source of the Earth's soil. When a fungi wants to reproduce, it grows its mushroom, which spreads its spores (seeds).
Why eat mushrooms?

Mushrooms are low in calories and fat, and a good source of protein, fiber, vitamins, minerals, amino acids, and antioxidants. While all mushrooms are nutritious, they also have medicinal qualities that are beneficial for brain and gut health, lower cholesterol, reduce the risk of cancer, and support the immune system. Besides their health benefits, mushrooms are really tasty! Below are some of the nutritional and culinary qualities of our mushrooms.
Where are you located?

Our mushroom farm is located on Goshen Rd., about 7 miles south of downtown Morgantown.
How long have you been around?

Mon Valley Mushrooms began in June of 2022.
Can I visit your farm?

Unfortunately, we are not available to host unscheduled visitors.
Where can I find your mushrooms?

Grafton Rd. Methodist Church: Thursdays 3-6 pm

Cheat Lake Farmer's Market: Mondays 4-7 pm (weather dependent)

Mountain Harvest Farm CSA

Mal's Fresh Produce: 312 Old Cheat Rd., Morgantown

Seasonal Markets

Moonlight Markets: 9/30 and 11/25 Downtown Morgantown

Rare Form Markets: 10/28 and 12/2 at Mylan Park.
How do you grow your mushrooms?

Mushrooms can either be started from "seed" (spores), or their "root" (mycelium) can be grown and transplanted in a few different ways. Like plants, mushrooms require the right conditions to grow. Some steps of the growing process require a sterile environment, specialized equipment, and a lot of patience. Depending on the mushroom variety, growing mushrooms is a 1-3 month process from start to finish.
Do you offer mushroom growing workshops?

This is something that we would like to do someday. We will post new information as it comes.
What's new in 2023 for Mon Valley Mushrooms?

We're always excited to experiment with growing new mushroom varieties. We are working on 4 new culinary/medicinal mushrooms (and their related products.) We will also be expanding our outdoor growing this Spring.